Present Graeme, Bob Audrey, Paula, Andy, Jackie
Apologies Gay
Grey Lynn Greenway is opening June 2 and you are all invited.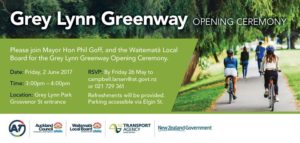 We talked of the Waterproof you Walk project that Ak Transport contracted us to undertake.  Bob and Andy did work for this and will be paid from the amount received.
Hern Bay cycling and walking improvements around Sarsfield and Curran sts was talked about.  A difficult area.
In Hepburn st parking on the berm is out of control.  GE will talk with KK about policy.
Dominos and Hell Pizza are using electric bikes on footpaths in the Ponsonby area.  We will start photographing the offenders.
The Clendon petition for footpath cycling was discussed.